Media Contact:
If you are a member of the news media looking for the best way to report on this, we have a page made just for you here!
Newsletters:
As anyone who has signed up to receive updates from us will tell you, we're continuing to broadcast newsletters to all subscribers. If you missed out, not to worry because we have them all archived and even have a handy subscription form right there on the page.
Blog:
Yes, we will continue to post to Facebook and other social media outlets, but the blog allows us to tell the history of this project in bits and pieces in an informal way.
Videos:
We have a YouTube channel where we're posting the best of our ongoing film documentary efforts. If you have not been by there yet, you should drop by and subscribe so you'll be alerted the instant we upload a new video.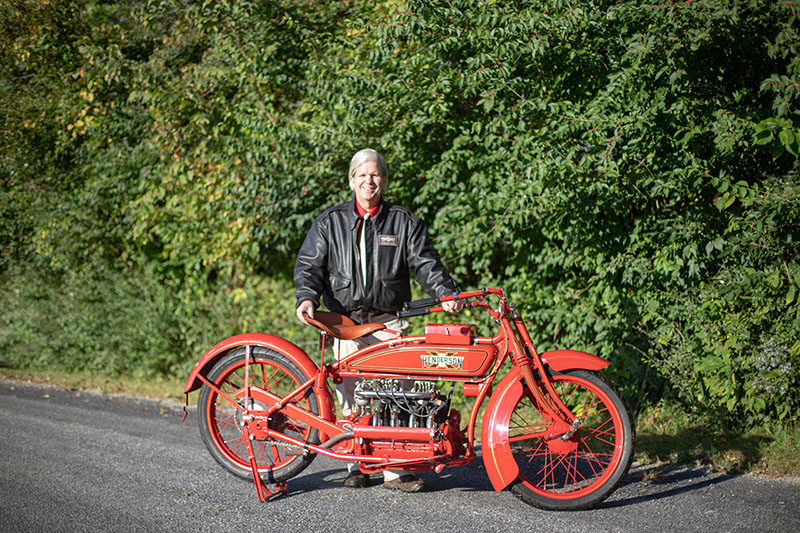 Yankee Chatter:
The Yankee Chapter of the Antique Motorcycle Club of America covered this ride in three issues of its Yankee Chatter. You can read all three articles here.
Most Recent Radio, Podcast, Television, and Print Interviews
Date
Outlet
Location
Personalities
Show
Type
Listen/Read
Fri, Jul 26, 2019
Calgary Herald
Calgary, Alberta, Canada
Greg Williams
"Man Retraces Historic Ride Across US by Motorcycle"
Read Article
Wed, Jul 17, 2019
RideApart
Janaki Jitchotvisut
"Join This Guy As He Rides His 100-Year-Old Bike Across America"
Read Article
Sun, Jul 14, 2019
KMOX-AM
St Louis, Missouri
Ryan Wrecker
Overnight America
(taped)
Listen
Starts at 00:17:00
Fri, Jul 12, 2019
Spectrum News 1
Columbus, Ohio
Dennis Biviano
(video interview)

Read & View


Thu, Jul 11, 2019
Belt Drive Betty's Blog
Canada
Renee "Belt Drive Betty" Charbonneau
BDB Interviews author and Henderson motorcycle enthusiast Mark Hunnibell
Read Article
Tue, Jul 9, 2019
AMA
Pickerington, Ohio
Jim Witters
"Across America on a 1919 Henderson: Mark Hunnibell makes stop at AMA Motorcycle Hall of Fame"
Read Article
Mon, Jul 8, 2019
SoundRIDER!
Pacific Northwest
Thomas Mehren
Book Review: Across America by Motor-Cycle: Fully Annotated Centennial Edition uncovers the rest of the story
Read Article

Mon, Jul 8, 2019
Impact Radio USA
Nationally-syndicated
Larry Matthews
"Matthews and Friends"
(taped)
Listen
Starts at 00:39:45
Wed, Jul 3, 2019
Podcast
New York, New York
Alex Garrett
Keeping it Real
(video interview)

View
Wed, Jul 3, 2019
London Post
London, England
Lisa Patrick
"Author Embarks on 4,500 miles Across America on a 100-Year-Old Henderson Motorcycle"
Read Article
Fri, Jun 28, 2019
The Brooklyn Paper
Brooklyn, New York
News Item
Read Article
Tue, Jun 25, 2019
Canada Moto Guide
Canada
Mark Richardson
"Crossing the Country"
Read Article
Mon, Jun 24, 2019
BYU Radio
Julie Rose
"Top of the Mind"
(taped)
Listen
Mon, Jun 24, 2019
WTBQ-AM/WGHT-AM
Warwick, NY
New York City/North NJ
Frank and Taylor
"The Frank Truatt Morning Show"
(live)
Fri June 21, 2019
WISR-AM
Butler, PA (Pittsburgh)
Dave Malarkey
"It's Your Turn"
(live)
Listen
Starts at 00:24:04
Thu, Jun 20, 2019
KMA-AM/FM
Shenandoah, IA
Dean Adkins
"Dean & Friends"
(live)
Listen
Thu, Jun 20, 2019
WMST-AM
Lexington, KY
Dan Manley
"Mornings on Main"
(live)
Listen
Starts at 00:41:27
Thu, Jun 20, 2019
WKRC-AM
Cincinnati, OH
Brian Thomas
Brian Thomas Morning Show
(live)
Listen
Thu, Jun 20, 2019
KWAY-AM/FM
Waverly, IA
Mark Ray
"Mark & Matt"
(live)
Wed, Jun 19, 2019
WEOL-AM
Elyria, OH (Cleveland)
Bruce Van Dyke &
Craig Adams
"WEOL Morning Show"
(live)
Listen
Tue, Jun 18, 2019
WKNY-AM
Kingston, NY
Warren Lawrence
"Warren in the Morning"
(live)
Mon, Jun 17, 2019
WESB-AM
Bradford, PA / Buffalo, NY
Anne Holliday
Live Line with Anne Holliday
(taped)
Mon, Jun 17, 2019
KXYL-FM
Abilene, TX
"The Morning Show"
(live)
Fri, Jun 14, 2019
Podcast
New York, New York
Alex Garrett
Keeping it Real
(taped)
Podcast or Listen online
Fri, Jun 14, 2019
WYRQ-FM
Minneapolis, Minnesota
Al Windsperger
"The Morning Show with Al"
(live)
Thu, Jun 6, 2019
KSCS-FM
WBAP-AM
Dallas, Texas
Mark "Hawkeye" Louis
Hawkeye in the Morning
Travel with Hawkeye Podcast
(taped)
Listen
Tue, Jun 4, 2019
WOCA-AM
Ocala, Florida
Larry Whitler
AM Ocala Live!
(live)
YouTube
Tue, Jun 4, 2019
WOCM-FM
Ocean City, Maryland
Bulldog & Big Al
Bulldog and the Rude Awakening
(live)
WOCM-FM on demand
Mon, Apr 22, 2019
Podcast
New York, New York
Alex Garrett
Keeping it Real
(taped)
Podcast or Download
Upcoming Radio, Podcast, Television, and Print Interviews
Date
Station
Location
Personalities
Show
Type
Listen
None Scheduled