Mission Complete!
I rolled the (still-running) Red One to park out front of the Clift Royal Sonesta Hotel in San Francisco about 11:00am on Tuesday, September 30, 2022. Here is a 4-minute video of that occasion.
Actual Route Track as Ridden
In preparation for more detailed reporting on the entire ride, I extracted GPS data from my Garmin and prepared a Google Map of the entire 2022 journey with key events and locations. You can check it out including zooming in as close as you like by clicking on the image below or click this link.
Live Tracking During the Ride
It is now a moot point, but (when I remembered to turn tracking on) my Garmin Montana was reporting my position in real time every 10 minutes.  You can see the results of that reporting on the Live Tracking Page.
The 2022 Map: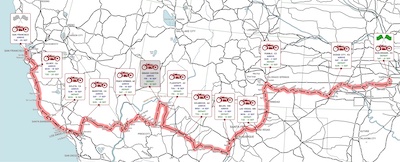 A map of the planned route for 2022 is available in high-resolution form and corresponds to the table of planned enroute and overnight stops below.
Compared to other long-distance motorcycle events, the pace of this ride will be rather slow, but will still be faster than C.K.'s elapsed travel time for the same distance. With some modern safety improvements and performance enhancements, we expect to make much better time over the modern paved roads compared to the 95% dirt and gravel conditions C.K. faced. We expect to be able to averaging about 40 mph on the open road. The planned timeline below is intended to reflect time spent at planned mid-day stops for fuel or other events.
The 2022 Calendar:
We have an easy-to-use Calendar view of the trip here.
The 2022 Timetable:
Day
Date
Description
Road
Depart
TZ
Duration
Stop
Time
Miles
Day
Miles
Trip
Miles
Notes
1
Sat, Sep 10, 2022

Lawrence to Casey's, Burlingame
US 59 S/
US 56 W
08:00
CDT
00:46
00:20
H
Casey's Burlingame, Kansas
US 56 S
09:06
CDT
00:04
00:20
1.7
1.7
1.7
Photo Op
'Crankshaft Kansas'
US 56 S
09:30
CDT
00:22
00:20
15.9
17.6
17.6
U.S. 56 & Kansas Tpke Thru Council Grove
US 56 W
10:12
CDT
01:43
26.6
44.2
44.2
Council Grove to Santa Fe Trail Marker
US 56 W
11:55
CDT
01:20
00:20
67.6
111.8
111.8
Santa Fe Trail Mkr to Fort Zarah St. Park
US 56 W
13:35
CDT
00:08
00:20
74.3
186.1
186.1
H
Fort Zarah SP to Great Bend Bridge
US 56 W
14:03
CDT
00:16
00:20
3.7
189.8
189.8
Refuel
Great Bend Bridge to West of Great Bend
US 56 W
14:39
CDT
01:46
00:20
6.7
196.5
196.5
West of Great Bend to Dodge City
US 56 W
16:45
CDT
01:46
77.8
274.3
274.3
Overnight
Arrive Dodge City: 18:31
2
Sun, Sep 11, 2022

Dodge City to Garden City
US 50 W
08:00
CDT
00:53
00:20
50.0
50.0
324.3
H
Garden City to Syracuse Kansas
US 50 W
09:13
CDT
01:10
00:10
53.2
103.2
377.5
Syracuse Kansas to Colorado Border
US 50 W
10:33
CDT
00:27
00:10
18.2
121.4
395.7
Colorado Border to Las Animas
US 50 W
10:10
MDT
01:29
00:20
66.9
188.3
462.6
Las Animas to La Junta
US 50 W
11:59
MDT
00:28
21.8
210.1
484.4
H
La Junta to Nepesta
US 50 W
12:27
MDT
00:36
00:20
35.0
245.1
519.4
H
Nepesta to East of Pueblo
US 50 W
13:23
MDT
00:34
25.7
270.8
545.1
East of Pueblo to Pueblo Riverwalk
Santa Fe
13:57
MDT
00:09
00:20
2.8
273.6
547.9
Pueblo Riverwalk to Southgate Pueblo
Lake Ave
14:26
MDT
00:12
3.8
277.4
551.7
Overnight
Arrive Pueblo: 14:38
3
Mon, Sep 12, 2022

Pueblo to Walsenburg
I-25 S
08:00
MDT
00:37
00:20
43.1
43.1
594.8
H
Walsenburg to Aguilar
CO 330
08:57
MDT
01:07
00:20
25.9
69.0
620.7
Aguilar to Trinidad
I-25 S
10:24
MDT
00:30
22.0
91.0
642.7
H
Trinidad to Raton NM
I-25 S
10:54
MDT
00:21
00:20
18.4
109.4
661.1
H
Raton to Gate at Raton Pass
Old Rd
11:35
MDT
00:11
00:20
2.6
112.0
663.7
Raton Pass to South of Raton
Old Rd
12:06
MDT
00:39
00:20
16.8
128.8
680.5
South of Raton to Wagonmound
I-25 S
13:05
MDT
00:41
00:20
45.1
173.9
725.6
H
Wagonmound to Las Vegas NM
I-25 S
14:06
MDT
01:24
45.0
218.9
770.6
Overnight
Arrive Wagon Mound: 15:30
4
Tue, Sep 13, 2022

Las Vegas to East of San Jose NM
I-25 W
08:00
MDT
00:36
21.3
21.0
791.9
East of San Jose to Pecos River
Front Rd
08:36
MDT
00:10
00:20
2.6
23.6
794.5
Pecos River to I-25 Exit 19 Overpass
Front Rd
09:06
MDT
00:05
1.5
25.1
796.0
I-25 Exit 19 Overpass to Shell @ Pecos NM
NM 63
09:11
MDT
00:31
18.6
43.7
814.6
Shell @ Pecos NM to High Five Eco Zip Tour
NM 50
09:42
MDT
00:11
5.7
49.4
820.3
High Five Eco Zip Tour to Café Fina
I-25 W
09:53
MDT
00:13
9.1
58.5
829.4
Café Fina to Santa Fe Plaza
NM 300
10:06
MDT
00:31
10.4
68.9
839.8
Lunch Break on Plaza
Lunch
10:57
MDT
01:00
68.9
839.8
Santa Fe Plaza to Arroyo Calabasas
NM 599
11:57
MDT
00:34
14.2
83.1
854.0
Arroyo Calabasas to La Bajada Hill
RD 56C
12:31
MDT
00:29
00:20
7.3
90.4
861.3
La Bajada Hill to Arroyo Calabasas
RD 56C
13:20
MDT
00:29
7.3
97.7
868.6
Arroyo Calabasas to North of Isleta
I-25 W
14:09
MDT
00:59
62.0
159.7
930.6
H
North of Isleta to Belen
NM 314
15:08
MDT
00:48
24.1
183.8
954.7
Overnight
Arrive Belen: 15:56
5
Wed, Sep 14, 2022

Belen to Socorro
I-25 S
08:00
MDT
00:38
43.0
43.0
997.7
H
Socorro to Magdalena
US 60
08:58
MDT
00:39
26.5
69.5
1024.2
Magdalena to VLA
US 60
09:37
MDT
00:40
00:20
24.2
93.7
1048.4
VLA to Pie Town
VLA Road
10:37
MDT
01:04
40.2
133.9
1088.6
Pie Town to US 60/Road A001
US 60
12:01
MDT
00:51
54.6
188.5
1143.2
H
US 60/Road A001 to Arizona Border
US 60
13:12
MDT
00:02
1.5
190.0
1144.7
Arizona Border to Springerville, AZ
US 60
12:14
AZT
00:21
14.4
204.4
1159.1
Springerville to St Johns
US 191
12:35
AZT
00:39
28.5
232.9
1187.6
St Johns to Petrified Forest (Tour)
US 180
13:14
AZT
00:50
38.4
271.3
1226.0
Petrified Forest to Holbrook
US 180
15:04
AZT
00:19
18.9
290.2
1244.9
H Overnight
Arrive Holbrook: 15:23
6
Thu, Sep 15, 2022

Holbrook to East of Winslow
I-40
08:00
AZT
00:25
28.6
28.6
1273.5
H
East of Winslow to Standin on the Corner
Old 66
08:45
AZT
00:12
4.0
32.6
1277.5
Winslow to Old Rt 66 @ Winslow Crater Rd
Old 66
08:57
AZT
00:27
20.7
53.3
1298.2
Old Rt 66 to Winslow Crater
Old 66
09:24
AZT
00:13
5.5
58.8
1303.7
Winslow Crater to Hampton Inn Flagstaff
I-40
10:37
AZT
00:38
39.2
98.0
1342.9
H
Hampton Inn to Lowell Observatory
Santa Fe
12:00
AZT
00:25
6.3
104.2
1349.1
Lowell Observatory to Hampton Inn
Santa Fe
13:25
AZT
00:25
6.4
110.6
1355.5
Overnight
Arrive Flagstaff: 13:50
7
Fri, Sep 16, 2022

Hampton Inn Flagstaff to US 89 & FR 417
US 89
08:00
AZT
00:21
16.7
16.7
1372.2
H
US 89 & FR 417 to Coconino Rim Rd
Old Trail
08:41
AZT
03:26
51.6
68.3
1423.8
Coconino Rim Rd to El Tovar Hotel
Coco. Rd
12:17
AZT
00:40
13.4
81.7
1437.2
Lunch Break in Grand Canyon Village
Lunch
13:17
AZT
00:00
0.0
81.7
1437.2
Grand Canyon to North of Williams
AZ 74
13:47
AZT
01:03
56.6
138.3
1493.8
H
North of Williams to Shell Gas, Williams
Old 66
14:50
AZT
00:08
4.3
142.6
1498.1
H
Shell Gas Williams to Ash Fork
I-40 W
14:58
AZT
00:14
16.0
158.6
1514.1
H
Ash Fork Exit to Ash Fork I-40 Onramp
I-40 W
15:32
AZT
00:04
1.4
160.0
1515.5
Ash Fork I-40 to Nelson Entrance
AZ 66
15:36
AZT
01:17
51.7
211.7
1567.2
Nelson Entrance to Peach Springs
Rd 19
16:53
AZT
00:29
9.9
221.6
1577.1
Overnight
Arrive Peach Springs: 17:22
8
Sat, Sep 17, 2022

Peach Springs to Northeast of Kingman
AZ 66
09:00
AZT
00:40
43.0
43.0
1620.1
H
NE of Kingman to SE of Kingman
Old 66
10:00
AZT
00:30
12.6
55.6
1632.7
Southeast of Kingman to Yucca
Front Rd
10:30
AZT
00:40
17.0
72.6
1649.7
Yucca to Old Trails Bridge
I-40 W
11:30
AZT
00:25
28.6
101.2
1678.3
H
Old Trails Br. to 5 Miles Rd (Needles CA)
I-40 W
12:15
AZT
00:12
7.4
108.6
1685.7
5 Miles Road to Santa Fe Park, Needles CA
5 Mi Rd
12:27
PDT
00:17
7.3
115.9
1693.0
Santa Fe Park to Wagon Wheel (Needles)
Old 66
12:44
PDT
00:08
1.5
117.4
1694.4
Wagon Wheel to Goffs Rd, Fenner
I-40/US 95
12:52
PDT
00:22
15.0
130.9
1708.0
Goffs Rd to County Rte 66, Fenner
US 95
13:14
PDT
00:36
24.5
155.4
1732.5
Fenner to Ludlow
CA 60
13:50
PDT
01:40
67.0
222.4
1799.5
Ludlow to Barstow
I-40
15:50
PDT
00:47
49.0
271.4
1848.5
H Overnight
Arrive Barstow: 16:37
9
Sun, Sep 18, 2022

Barstow to Hesperia
I-15
08:00
PDT
01:05
52.5
52.5
1901.0
H
Hesperia to Arrowhead Monument, San Bernardino
Rt 138
09:25
PDT
01:00
25.1
77.6
1926.1
San Bernardino to 928 S Broadway, Los Angeles
I-210/605
10:45
PDT
01:12
65.0
142.6
1991.1
H
928 S Broadway to Hotel Clark, 426 S Hill St
Downtown
12:17
PDT
00:05
0.9
143.5
1992.0
Hotel Clark to 205 N Grand Ave
Downtown
12:42
PDT
00:04
0.7
144.2
1992.7
205 N Grand Ave to Ventura Fwy/Coldwater Canyon
US 101
13:06
PDT
00:16
12.9
157.1
2005.6
H
Ventura Fwy/Coldwater Canyon to East of Ventura
US 101
13:38
PDT
00:50
50.3
207.4
2055.9
H
East of Ventura to Rincon Beach
US 101
14:48
PDT
00:36
12.3
219.7
2068.2
Rincon Beach to Hampton Inn Goleta
US 101
15:54
PDT
01:12
27.3
247.0
2095.5
Overnight
Arrive Goleta: 17:06
10
Mon, Sep 19, 2022

Goleta to Old Coast Highway Intersection
US 101
08:00
PDT
00:45
29.2
29.2
2124.7
Old Coast Hwy Intx to Solvang Motorcycle Museum
Old Coast
08:45
PDT
00:23
7.8
37.0
2132.5
Solvang Motorcycle Museum to Los Olivos
Alamo
09:08
PDT
00:18
6.2
43.2
2138.7
Los Olivos to US 101 Offramp Nipomo
US 101
09:47
PDT
00:34
38.6
81.8
2177.3
H
US 101 Offramp Nipomo to Shell Beach
US 101
10:41
PDT
00:40
15.0
96.8
2192.3
Shell Beach to San Luis Obispo
US 101
11:21
PDT
00:27
9.1
105.9
2201.4
San Luis Obispo to South of Paso Robles
US 101
11:48
PDT
00:38
25.9
131.8
2227.3
South of Paso Robles to San Miguel
US 101
12:26
PDT
00:21
11.4
143.2
2238.7
San Miguel to Ardo
US 101
13:07
PDT
00:20
22.4
165.6
2261.1
H
Ardo to King City (Chevron Station)
Cattlemen
13:47
PDT
00:36
21.3
186.9
2282.4
King City (Chevron Station) to Gonzales
US 101
14:23
PDT
00:41
27.8
214.7
2310.2
Gonzales to Chualar
US 101
15:05
PDT
00:18
7.6
222.3
2317.7
Chualar to North of Salinas
San Juan Grade Road
15:23
PDT
00:36
14.4
236.7
2332.1
North of Salinas to Gilroy
San Juan Grade Road
15:59
PDT
00:55
25.0
261.7
2357.1
Overnight
Arrive Gilroy: 16:54
11
Tue, Sep 20, 2022

Gilroy to Shell Gas, San Jose
Monterey
08:00
PDT
01:07
28.1
28.1
2385.2
Shell Gas (San Jose) to Chevron, 101 Bayshore SF
US 101
09:27
PDT
00:51
49.0
77.1
2434.2
H
Chevron, 101 Bayshore SF, to Clift Hotel
Potrero
10:38
PDT
00:27
3.7
80.8
2437.9
FINISH!
Arrive Clift Hotel San Francisco: 11:05