Fully Annotated Centennial Edition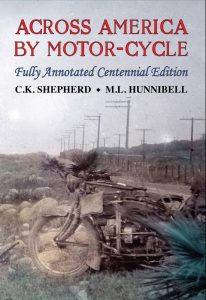 My new edition of this classic book, Across America by Motor-Cycle – Fully Annotated Centennial Edition, is now available in paperback in bookstores and online at amazon.com and barnsandnoble.com!
At 492 pages, the new paperback book more than doubles the page count of the 1922 classic by adding almost 750 detailed notes and almost 250 photos, figures, maps, and illustrations. It also includes many photographs C.K. took himself on his trip but did not make it into the book. It includes a foreword from C.K. Shepherd's son, short biographies of me and C.K., a complete bibliography, and a comprehensive index.
A new eBook version of the Fully Annotated Centennial Edition is now available in formats viewable on Kindle, iBooks, and others. The eBook has complete internal hyperlinks that allow you to easily jump to the note and back to the text. Get the eBook:
▶ for Kindle at amazon.com
▶ for iBooks at apple.com
The 1922 Classic
The 1922 classic book is also now available in remastered and reset Paperback and Kindle format. These books are the result of countless hours of careful transcription and error checking. They also contain high-resolution images scanned from an original hard copy of the book I purchased several years ago.
The Audio Book
But I also am presenting the first and only audiobook of the 1922 classic. This audiobook came out better than I imagined. Will de Renzy-Martin, a professional narrator, renders all the words in C.K.'s book with his wonderful age-appropriate British accent. The sample you can hear for free is only the tip of the iceberg. When you listen to this book and close your eyes, it is as if C.K. himself is with you telling you about his adventures.

Get Your Copy Autographed
This summer, I will be on a 4500-mile-long "book-signing tour" and will be happy to sell you an autographed copy including C.K.'s signature using a custom stamp given to me by C.K.'s son to use when I sign autographs! In fact, if you manage to catch up with me at the Grand Canyon or perhaps Los Angeles, you might even be able to entice C.K.'s son to also sign your very own copy since he plans to join us on the ride there.
I hope you'll consider making the small investment on one or more of these books to help celebrate and remember the historic journey taken by C.K. Shepherd 100 years ago.